We contribute with Our High Top Cranes to over 80 International Port Expansion Projects with Floating Caissons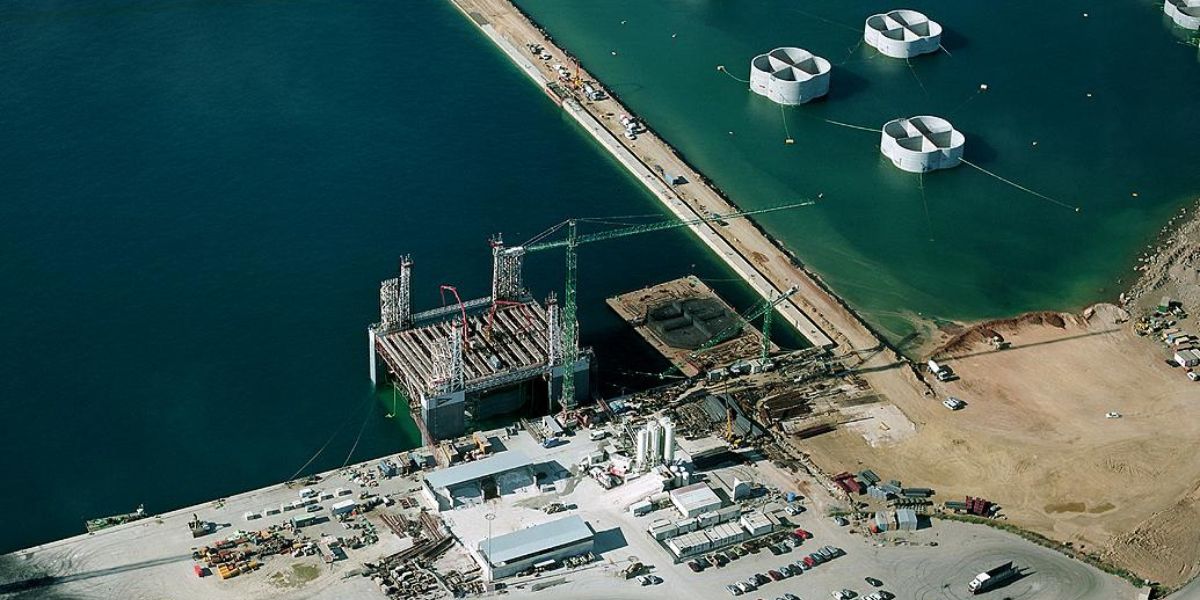 19 / 09 / 2023
One of our most recent projects is the Kugira project by Acciona, Europe's largest floating caisson, which employed a J300N.A and a J110N crane for the construction of 6 caissons.
When it comes to engineering projects of significant complexity due to atmospheric conditions, high costs, and the intense economic activity surrounding them, few match the scale and intricacy of expanding docks and ports. When there's an added requirement to complete such projects within a short timeframe while minimizing environmental impact, the execution becomes even more challenging.
The solution? The use of floating caissons—prefabricated reinforced concrete structures distinguished by their substantial dimensions, cubic shape, and a network of vertical cells in various geometric forms that reduce their weight. These caissons are manufactured in caissoniers or floating docks at sea, facilitating their transportation to their final destinations.
JASO Tower Cranes has been involved in over 80 floating caisson projects worldwide. We have collaborated with renowned construction companies such as Acciona, Sacyr, Grupo Puentes, Dragados, SATO, OHL, Fomento, and FCC, and worked on ports including Algeciras, Sagunto, Cartagena, Gijón, and Rota, manufacturing caissons that often had international destinations, such as Sweden, Indonesia, Aberdeen, or the port of Algiers.
One of our recent accomplishments is the Kugira project by Acciona, which, in 2022, constructed six floating caissons at Punta Langosteira, A Coruña, making it the largest floating caisson dock in Europe. These caissons measured 60 meters in length, 24 meters in width, and weighed 15 tons each. For their construction, we relied on two High Top cranes provided by our distributor Alfeco: a J300N.A, boasting a 75-meter reach, a maximum load capacity of 12 tons, and 2.7 tons of tip load, and a J110N with a reach of 55m and 8t maximum load, both cranes known for their perfection and ease of assembly, ideal for demanding projects that require light loads.
In Bilbao, again in collaboration with Alfeco, we've completed numerous floating caisson projects. For this, we once more utilized the J300N.A and J110N models, alongside two J145.A cranes, with a 60-meter reach, 8 tons of maximum load capacity, and 2 tons of tip load.
Furthermore, in the Canary Islands, we've participated in around 30 projects, deploying various caisson types based on the port's requirements. For the larger ones, we've again turned to the J300N.A, while for the smaller caissons, we've supplied a J52NS crane, with a 52-meter reach, 5 tons of maximum load capacity, and 1.1 tons of tip load.
All these projects position JASO Tower Cranes at the forefront of construction not only in residential buildings but also in various industrial and commercial sectors, showcasing that modular construction is the future.