We proudly present the J800.48, our second-largest crane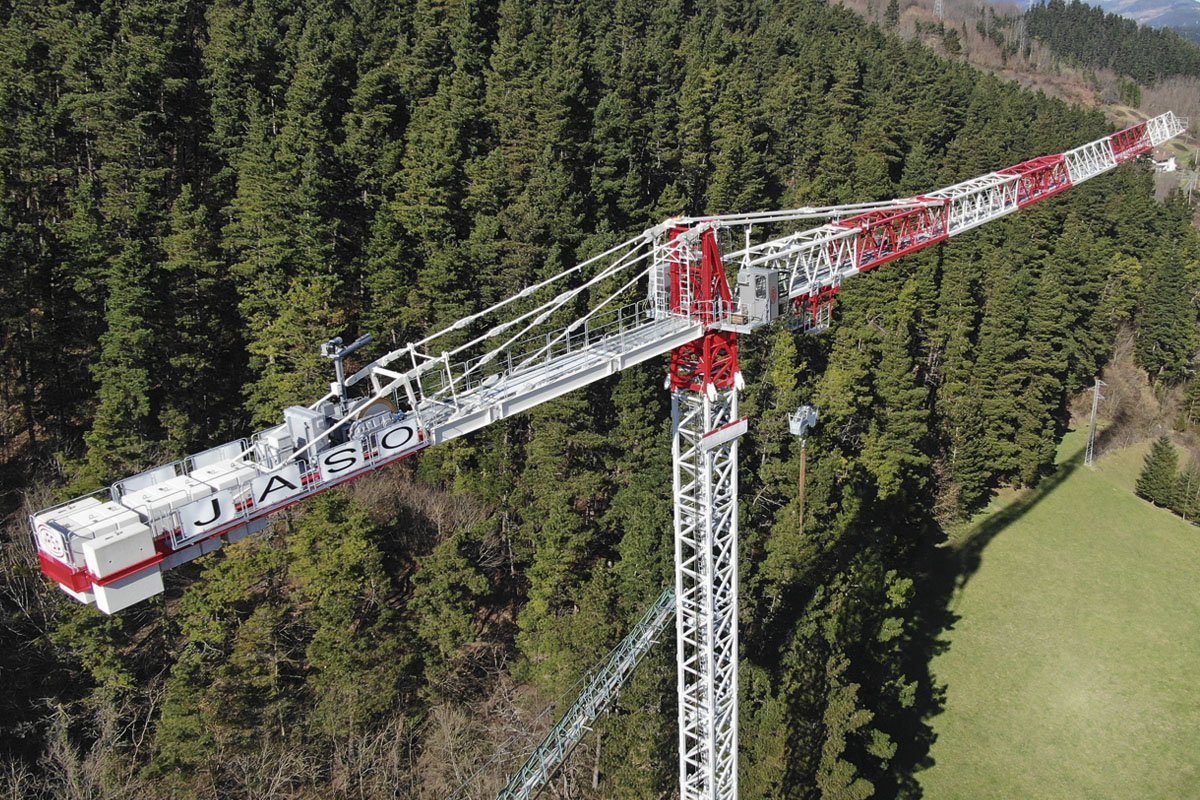 18 / 05 / 2020
After launching the J1400 last year, we have recently added another large high-capacity Low Top crane to our Top Line range.
The new J800.48, second in size only to the larger J1400 and part of the Jaso Low Top series, conceived for heavy-duty operations. With the characteristic short tower head, they look more similar to Flat Tops than Hammerhead cranes.
When you compare like with like, there is practically no difference at all between the clearance height of our Low Top cranes and Flat Top cranes. This is because Flat Top cranes require a deeper jib segments and heel section to offset the lack of the short, but sturdy jib tie used by Jaso in the Low Top cranes. When there are several cranes working together, Low Top cranes as such do not have any disadvantage against Flat Top cranes.
Furthermore, by using a strong jib pendant, the problems generated by the deflection have been overcome while flat tops booms typically need to add more steel to achieve the same. In fact, during the erection the section with the pennant attached is lifted in on piece with the first two sections, to form the extremely short 23 metre boom. The rest of the jib can be assembled in 2.5 metre sections reaching the full 80 metre boom, section by section, as easy as flat tops. These 2.5 metres boom intervals give the J800.48 a great versatility, something very interesting when several cranes operate at the same time at one job site.
Also, the short swing radius, the minimum of which is 18,6 metres, achieved using only one of the four modular counter jib configurations. With longer jibs more modules can be easily added, reaching the longest 28 metre counter jib when a 80 metre boom is mounted.
The new J800.48 can free stand 73.6 metres high, working with single reeving and using standard 2.16 x 2.16 metre tower system which is in 5.6m long tower sections. Taking the stronger and sturdy TSP20-5.6 section which has the same 2.16m x 2,16 metre dimension, impressive maximum hook heights of 101.7 metres can be achieved with the minimum 23 metre boom and 90.5 metres with the maximum 80 metre boom.
A new feature offered with this crane has to do with the load chart, it can mount a trolley working with single reeving (ST-SR)—maximum capacity of 24 tonnes and 4.1 tonnes at 80 metres—or double reeving (ST-DR)—maximum capacity of 48 tonnes and 3.3 tonnes at 80 metres. It also allows to assemble a special trolley to exclusively work with simple reeving (SR), giving a higher load capacity at the end both with all intermediate boom lengths or with the full boom length assembled, providing a maximum capacity of 24tonnes and 5.1 tonnes at 80 metres.
The standard hoist motor is 150hp while the optional 180hp motor unit gives a maximum speed of up to 150m/min. In addition, the hoist winch comes with a 'Lebus' grooved drum specially designed for JASO. It allows enough rope for a 455 metres hook height when working with simple reeving, and up to a 277 metres hook height when double reeved.
Furthermore, the new Low Top crane has been designed, optimizing size and weight of all components to ease assembly and transport. As to size complete crane can be transported in standard 40-foot containers, with no need of open top or flat rack units. Maximum component weights are kept low, assuring the assembly can be optimised by using a smaller mobile crane and possible transport weight restrictions due to the maximum axle weight limits can be avoided.
The J800.48 has been designed to meet the current market needs with new construction technologies and building systems, requiring high capacity tower cranes. On the one hand, for PPU loads, which generally call for capacities of between 18–21 tonnes at 40 metres using jibs of around 60 metres in length, the performance of this crane is excellent. The same is true for the so-called PPVC (prefabricated prefinished volumetric construction) system, where typically module loads of 35–40 tonnes are needed with shorter jibs, to commit any heavy-duty job.