"I was born with a crane under my arm"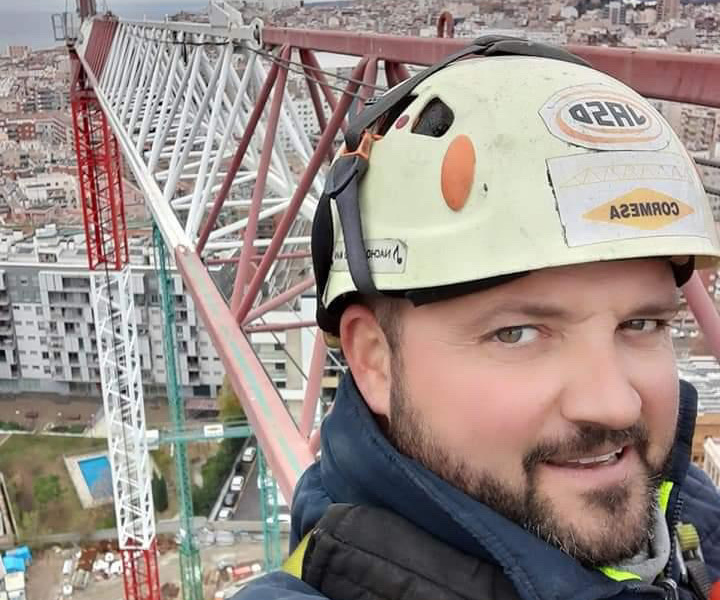 10 / 03 / 2023
This is the story of Nacho, the first rigger to tell us about how his love for tower cranes has marked his life.
My name's Nacho, I'm 43 and you could say I was born with a crane under my arm! I started out by helping my father, who's also been a crane rigger all his life, each summer, when I was just a boy. Things were different then and I was lucky enough to be able to go with him and give him a hand, working the pendant and carefully watching as he carried out repairs, or helping him to change cables.
I went up on a crane for the first time when I was 16. I still remember all the sensations I felt when I was up there for the first time. 27 years have gone by and I've been hot and I've been cold, I've had fun and I've even been scared, assembling and disassembling hundreds and hundreds of cranes (I lost count after the first two or three years!).
I've lived in three different places and worked at three different assembly firms. But there's one brand that linked all those professional and personal experiences and feelings: JASO.
You can tell that from the green marks on my clothes and my hands, and the green crane sections always in the background on my posts and my selfies. I'm loyal to this brand, because I see it as part of what I am, and I feel that I form part of it too.
Working on JASO cranes over these 27 years there have been a lot of big changes: assembly methods, technology, the range of models… but some things have stayed the same. The simplicity and speed of assembly and disassembly, the easy loading and transportation, the technical quality and robustness, the technical service and the team of people, or the reliability and the handling. All these qualities are why I'm still with JASO and why I'll stay with them in future.
And if I had to choose just one assembly I know which it'd be: The next one.