JASO Tower Cranes at EXCON 2023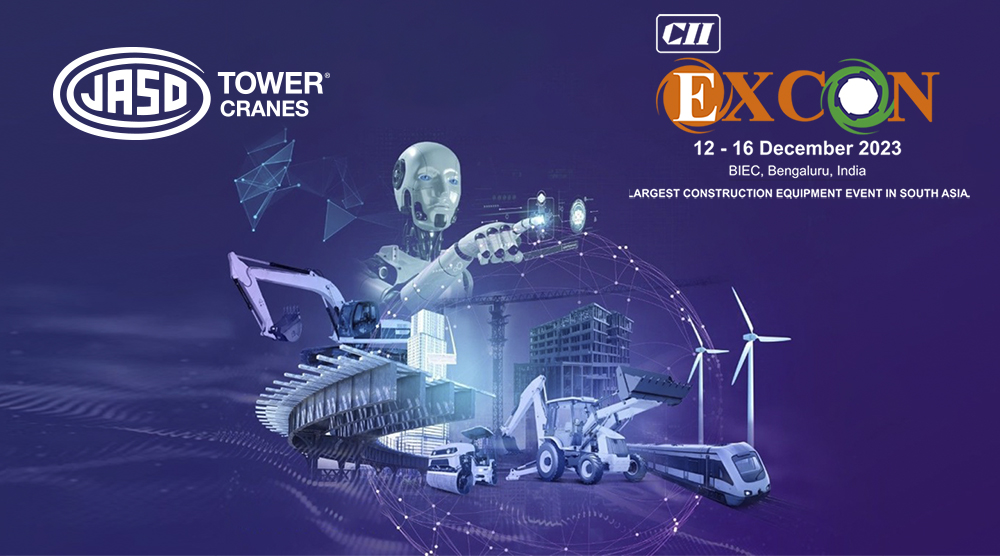 15 / 11 / 2023
We are excited to announce our debut participation at EXCON 2023, the largest machinery exhibition in South Asia. JASO Tower Cranes will be showcasing for the first time ever our extensive range of tower cranes tailored for this dynamic market.
Recognizing the significant potential in the South Asian market, especially in countries like India, known for the growing infrastructure sector, we are excited to participate as exhibitors from December 12 to 16 in Bangalore. Our stand, OD122 (Green Lot Outdoor), will be hosted by our manager, Josu Tornay, and our commercial director, Jorge Lucas. We invite attendees to join us and explore one of JASO's classic models, generously provided by SAI INFRA Equipment for this occasion
Despite our substantial experience in this market, our debut at EXCON 2023 aims to forge new connections with industry professionals. We aim to showcase our wide range of versatile, high-quality, and durable tower cranes. Notably, we are renowned for our record delivery times and optimization of global transportation logistics, providing comprehensive, flexible, and cost-effective solutions.
We are confident that our tower cranes will play a pivotal role in advancing major construction projects in South Asia.
If you plan to attend EXCON 2023, we encourage you to visit our stand at OD122. We look forward to welcoming you and discussing how JASO Tower Cranes can contribute to the success of your projects.